10 New Year's Resolutions for the Healthiest Hair & Skin in 2019
It's impossible to believe it's 2019.
Is this real life? I pinched myself and didn't wake up from the dream, so I suppose it is. Once you get through denial and face the the fact that it's the new year, the next step is to get your realistic resolutions in place so you can crush it in 2019. That is, crush your hair and skin care regimen so you can rock your healthiest-ever hair and skin all through the new year and beyond.
The key to creating and sticking with new years resolutions is to make them realistic, simple, and attainable. The truth is, the secret to unleashing your healthiest hair and skin yet is nothing life shattering, difficult, or time consuming. It's not even expensive. It's simply applying these few small tweaks to your regimen and making them habitual so that by the end of 2019, they'll be your new normal instead of just forgotten. Most of these resolutions only take up a few minutes of your time so there are no excuses!
Pledge to your self to upkeep these 10 simple hair and skincare resolutions for the new year and your hair and skin will be as healthy and luscious as they'll ever be.
1. Pre-Shower DRY BRUSH
Frequency: Daily
Time: 1-2 Minutes
Dry brushing is when you gently 'brush' your skin when it's dry using a bristle brush. Dry brushing promotes healthy skin because it stimulates blood circulation while simultaneously exfoliating to lift and remove dead skin cells. There was a point in time when dry brushing was super trendy, but lately the fad around dry brushing has unfortunately faded. Even though the dry brushing trend isn't breaking the internet at the moment, it's still a great way to give your skin care regimen a healthy boost and promote healthier, younger looking skin. Not sure how to dry brush? Check out this tutorial.
Think dry brushing is a bit excessive? An easy way to realistically work dry brushing into your skincare routine without being too extra is to do a quick one-minute dry brush from your shoulders to toes while you're waiting for your shower water to heat up every morning or night. You can either use a brush specifically designed for dry brushing (there's a ton of them out there), or you can use a dry sisal soap pouch or mini loofah, gently buffing away at rough areas to loosen dead skin pre-shower. Do this for just 1 minute right before you hop into the shower every day as you wait for the water to heat up and benefit from firmer, healthier skin.
2. Dust or Lightly Trim Your Split Ends
Frequency: Every 3 Months
Time: 20 Minutes
You don't need to blow all your spending money at the hair salon getting a trim every month. You don't even need to get a professional trim every six months. The best time to go to a professional stylist to cut or trim your hair is when you're looking for a completely new style of cut or if you haven't gotten your hair professionally cut in over a year. Anything more than that, and you are likely cutting your hair more often than you need. Instead of a full trim, opt for dusting every few months instead.
The average person's hair grows around a half inch every month. So if your goal is to grow your hair as long, thick, and healthy as possible, you don't want to over-trim it more often than the rate of hair growth or you will never actually see your new growth.
On the flip side, it is important to 'dust' and/or lightly trim your split ends regularly to avoid breakage. If you frequently use heat on your hair or you regularly use any hair products with harsh chemicals or sulfates, your hair is more prone to split ends and you should lightly trim your hair up to a quarter inch or half inch at least every 3 months. Dusting your hair every 3 months will help illuminate split ends and greatly reduce breakage and thinning hair without compromising hair length and growth retention. You don't need a professional stylist for a quick dusting or trim, you can do it yourself or ask a friend for their help!
If you opt for the budget-friendly option of DIY dusting your hair on your own, beware of these crucial dos and don'ts of hair dusting and these tips for dusting curly hair.
3. Exfoliate From Head to Toe
Frequency: Weekly
Time: 5-10 Minutes
There are endless methods for exfoliating dead skin. Depending on different factors including your skin's texture, dryness, elasticity, sensitivity, and age, it's important to find an exfoliating method that works best for your unique skin type. There is a such thing as over-exfoliating, as exfoliating too often or using an exfoliator that is rougher than needed can eventually irritate your skin and strip your skin of it's natural oils. We recommend exfoliating around three times a week.
However, since the point of these 10 hair and skin care resolutions is to keep it realistic and easy to stick with for the entirety of 2019, we recommend choosing just one day out of the week to be your designated exfoliation day. And don't just stop at your face—since we're on the quest to achieve your healthiest hair and skin for 2019, make sure you're exfoliating from head to toe, without missing your scalp and body!
When selecting a facial exfoliator, it's best to choose an option that is the gentlest and least abrasive on sensitive areas. Absorbing clay-based face masks and facial peels, as well as finely ground walnut powder and other powder-based facial scrubs are best for facial exfoliants to free your face of dead skin gently without being overly abrasive. For body and feet, look for heavier grain scrubs like sea salt and ground oatmeal or use exfoliating tools like pumice stones, natural loofahs, or exfoliating sisal bags for a deeper all-over body scrub. For your scalp, opt for gentle sugar scrubs and fine grain salt scrubs that you can buff onto scalp with the palms of your finger tips (not your fingernails) to scrub away product build up and dead skin without causing abrasions on your scalp.
4. Drink at Least 50 oz of Water
Frequency: Daily
Time: As Needed
Depending on who you talk to and depending on who asks, the answer to the question of "How much water should I drink daily?" will always vary. The only consensus around this question tends to be that the average person could benefit from drinking more water—most people don't drink as much water as they should.
Getting an ample supply of water is important for healthy skin and healthy hair growth because drinking enough water helps ensure that you are hydrating your hair and skin from the inside out. For skin and hair to benefit from drinking water, you'll have to drink quite a bit more water than you might think since most of the water will go first to your internal organs. With that being said, consuming water is still a fundamental (and inexpensive!) aspect of a healthy hair and skincare regimen. Each of your hair strands is made up of about 25% water, so nourishing your body with enough water daily is important to maintain hair health, strength, elasticity, and is important to combat breakage along with dry, flaky scalp.
Beyond healthy hair growth, drinking plenty of water also greatly benefits skin, especially if you have acne-prone skin. Drinking enough water daily helps the body flush out toxins and provides the subcutaneous strength and nourishment needed to produce healthy skin cells that are better able to heal, grow, and fight off acne-causing bacteria. Hydrating your skin from the inside out by drinking a healthy dose of water daily can also improve the overall look, texture, and feel of your skin and reduce wrinkles.
If you're not used to drinking the widely recommending eight 8 oz glasses of water daily (64 oz total), start out by pledging to drink at least 50 ounces of water every day in the new year. Once that becomes habitual and you start reaping the benefits of hydrated skin from the inside out, you can up the ante to the recommended 64+ oz of water daily. Remember to keep a 25 oz water bottle with you at all times in the new year. Make sure that by the end of each day, the water bottle is empty and that you've filled it up at least twice to get your total 50+ oz of water every day.

5. Wear a Protective Hair Style
Frequency: 3 Days per Week
Time: As Little as 5-10 Minutes Per Style
You probably already have a daily routine that involves the same hair style and make up every morning. It's also very possible that your go-to "oh-sh**-I'm-running-late" hair style is already a protective style! In which case, you're hair is in luck. Protective hair styling is when you purposefully style your hair in a way that tucks away and protects your fragile ends. The ends of your hair are the oldest part of your hair, meaning they've withstood the most damage and environmental stressors that you've ever put on your hair, and have been withstanding it all for the longest time. After heat, sun exposure, harsh and smothering hair products, hair brushing, manipulative styles, and exposure to the elements, the ends of your hair have seen it all. Your tired ends deserve a break once in a while to help reduce the chances of split ends and breakage, and protective styling does just that.
Protective styles range from messy buns and updos, to braids and wigs, to hundreds of combinations of the previously mentioned, and more. For some inspiration for new protective styles to try this 2019, check out our protective style Pinterest board. We recommend wearing protective styles at least 3 days out of the week to give your hair and ends the break they need to stay healthy and strong.
6. Ditch Sulfates and Silicones Completely
Frequency: Always!
Time: One-Time 15 Minutes to Weed Through All Your Products
If there's ever a good time to say goodbye to harsh sulfates and silicones, the time is always now! Sulfates act as aggressive cleansers that strip the hair of their natural moisture. While they effectively remove build up, dirt, and oils, they are excessively drying and can worsen damaged hair over time. Silicones act as smoothing agents for a quick fix to tame frizz and add shine. However, the smoothness and shine you get from a silicone-based product is created synthetically from the plastic-like characteristic of silicone. Instead of actually smoothing the hair shaft, silicone acts like a smothering plastic coating that provides the appearance of healthy hair, but can actually lead to product build up. This blocks the hair shaft from breathing and absorbing moisture. Silicones are typically difficult to dissolve in water, so you need harsh cleansers like sulfates to properly remove silicone build up from the hair, which is why it is best to avoid the cycle of damage and opt for sulfate-free and silicone-free hair care products instead.
Take some time in the new year to raid your own beauty cabinet. Discard any hair products you own that include any of these harsh sulfates and smothering silicones in their ingredient list:
Avoid These Harsh, Drying Sulfates:
Sodium Lauryl Sulfate

Sodium Laureth Sulfate

Ammonium Lauryl Sulfate
Avoid These Buildup Causing Silicones:
Dimethicone

Bis-Aminopropyl Dimethicone.

Cetearyl Methicone.

Cetyl Dimethicone

Stearoxy Dimethicone.

Stearyl Dimethicone.

Trimethylsilylamodimethicone
7. Use an Astringent Toner on Facial Skin
Frequency: Daily
Time: 10 Seconds
Make 2019 the year of kicking redness, dark spots, acne, and discoloration to the curb. To make that possible, we recommend committing to a daily usage of an astringent toner on your facial skin this new year. You may have to experiment with a few different toners to see which is the gentlest and most effective for your skin type. There are a myriad of different toners made with different natural ingredients including apple cider vinegar, rose water, witch hazel, and aloe vera juice to name just a few. You can also opt to make your own DIY facial toner using three parts water to one part apple cider vinegar, and a few drops of a clarifying essential oil such as tea tree oil to fight bacteria.
With prolonged and consistent use, toners can greatly improve the look, feel, and evenness of skin tone. They help tighten skin to reduce the appearance of pores and help fight acne-causing bacteria while reversing the signs of scarring and dark spots. The effective usage of a facial toner takes all but 10 seconds. Simply apply the toner all over face with a cotton ball after washing and drying your face before bed every night. Very soon in to the new year you will notice the results! And it only adds 10 seconds to your total night time routine.
8. Sleep on a Satin Pillow Case or Cover Your Hair at Night
Frequency: Daily
Time: Overnight
If you've been having trouble retaining your length this year, the culprit of your split ends and breakage may very well be bedtime. If you're aiming to grow longer, thicker, healthier hair this new year, it's important to moisturize and cover your hair at night to protect your delicate ends from rubbing up against the friction of your sheets and pillow cases. The fibers from your bed covers can snag onto your hair strands, like Velcro, and tug away at your strands as you toss and turn during the night. This leads to breakage, split ends, and thinning hair. If you can't stand the feel of wearing a silk or satin head covering while you sleep, switch to a satin pillow case instead. Make sure to thoroughly wash your pillow case at least every two weeks to avoid causing acne or irritating your face.
9. Air Dry Your Hair 70% Dry Before Brushing, Styling or Blow Drying
Frequency: Every Hair Wash Day
Time: TBD by Hair Length & Density
It sounds counter-intuitive, but your hair is much stronger when it is dry than when it is soaking wet. Most of us detangle and brush our hair after washing it while it is still very wet. This can lead to far more breakage and shedding than if you brush your hair when it is dry.
Since your hair is much more fragile the wetter it gets, try to avoid any and all heavy manipulation and styling while it is sopping wet. Prior to doing anything with your hair, first air dry until it becomes about 70-80% fully dry (so it is just damp rather than soaking wet). Manipulation includes any hair treatment that might lead to shedding or breakage such as brushing, combing, finger detangling, sectioning, styling, and blow drying or blow outs. If your hair gets tangled easily, detangle your hair gently before washing it while it is still dry so that it is less tangled when wet.
To avoid excessive heat and heat damage, allow your hair to air dry to about 70% dry before blow drying it to 100% dry. If you must detangle, comb, or brush your hair while it's still wet, wait until it is about 70-80% dry before manipulating and combing with a brush or comb while it's damp. Doing this will greatly reduce the amount of direct heat on your hair and will allow your hair to return to a stronger state than when it's soaking wet prior to styling. This will help reduce hair loss, breakage and thinning while styling.
If you can't commit to always air drying hair to at least 70% before styling this new year, aim for slightly less dry at around 50% dryness or just reduce the number of wash days altogether to avoid washing and drying your hair as often which will save your hair from some breakage in the long run.
10. Clean Your Make Up & Hair Brushes Weekly
Frequency: Weekly
Time: 5 Minutes
When you think about it, your bristle brushes are essentially hair, too. They need to be washed and taken care of just as much as your hair so that they are clean and sanitized. A dirty brush is a breeding ground for bacteria that will spread to your hair and face if you do not regularly cleanse your hair and makeup brushes. Making sure your makeup brushes are kept clean and disinfected will help reduce the chances of irritating your skin or causing acne flare ups. Cleansing your hair brushes of product build up and shed hair can also reduce the amount of dandruff-causing bacteria lurking on the brush that could potentially translate into a flaky, itchy scalp.
Even though thoroughly cleaning your hair brushes and make up brushes can be tedious and may feel like a waste of time since we may never actually notice the bacteria in the first place, it is still wildly important to maintain clean brushes so that your hair and skin can be bacteria-free and as healthy as possible. Pick one day of the week that you are least likely to apply make up or brush your hair and make that your brush washing day to give your make up brushes time to dry before the next use. For makeup brushes, scrub each brush individually with a lathering soap-based cleanser and rinse in warm water. Avoid using sulfate-based detergents or cleansers made with harsh ingredients that may irritate your face. Repeat this process until the water running out of the bristles runs clear. For hair brushes, you can soak them in a mixture of water and apple cider vinegar to neutralize and kill bacteria. Soak for a couple minutes and remove any shed hair from the brush. You may need to scrub the brush with a soap based cleanser for a deeper cleanse. Allow to dry before your next brush.
Cleansing your brushes on a regular basis will greatly reduce the amount of acne and dandruff causing bacteria coming in contact with your face and scalp on a regular basis!
Are your makeup brushes in need of a good scrub?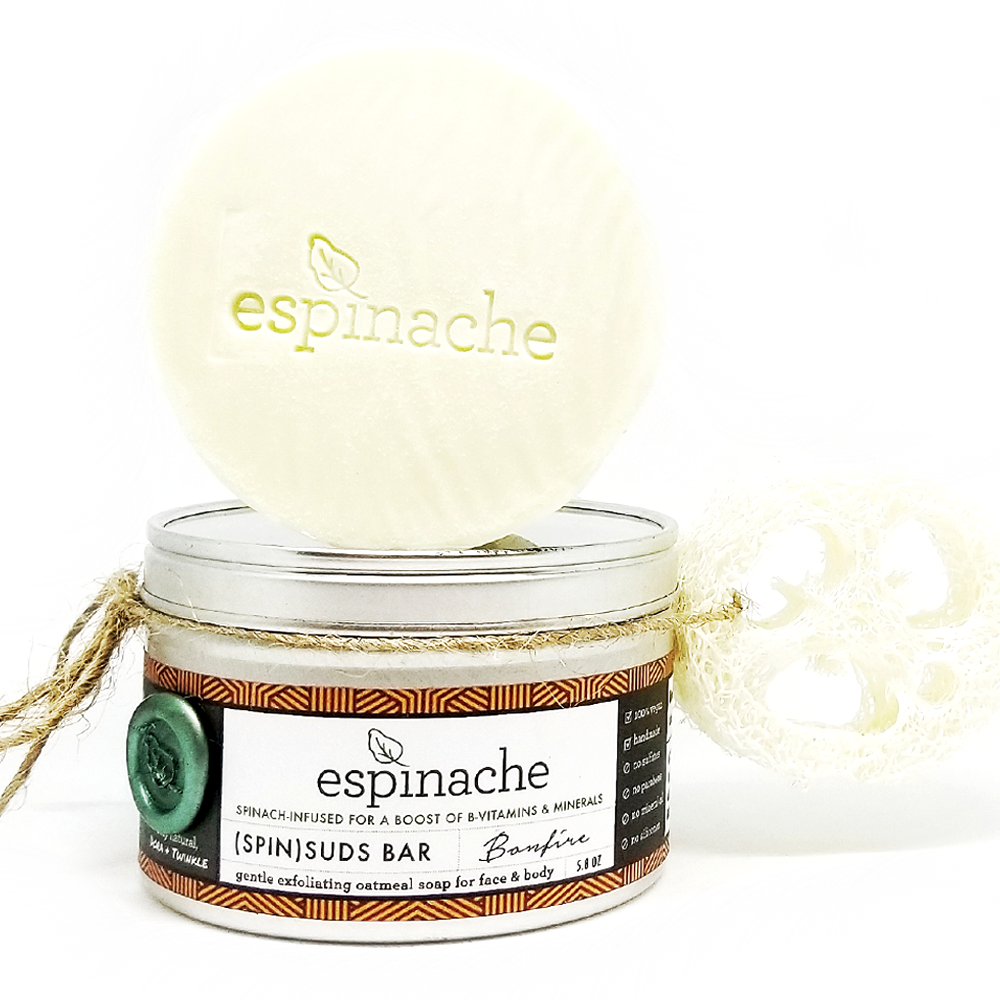 Give your MAKEUP brushes a scrub
Our gentle lather Bonfire (Spin)Suds Bar is gentle enough for face but gritty enough to remove the toughest makeup while gently exfoliating. Free of harsh sulfates, Bonfire is packed with natural oatmeal particles to boost exfoliation, removing makeup, product build up and dead skin cells. Bonfire (Spin)Suds Bar is a fantastic facial cleanser and is tough enough to cleanse your make up brushes, too! Simply wet the soap bar and scrub brushes directly onto soap to form a lather. Rinse the brush and repeat until the brush is thoroughly clean and clear of makeup.
Do your brushes need a scrub or two?
Cheers to healthy hair & skin in 2019!